Amalia Mondragon la cordinadora musical para la "ACTIVACION" de la noche del 23 de noviembre donde Puro Borde! mostró una parte de nuestra cultura fronteriza, "La noche de puro borde fue una representación OG de Chuco y Juaritos" – (original gangster)
As part of the "Activation" we ask our closest friends to participate in this binational dialogue through Rafael Lozano Hemmer – Borde Tuner art installation.
La activación de cada una de las noches comenzaba con una declamación de una provocación // poema que se leía simultáneamente a través del Sintonizador Fronterizo; en los primeros minutos de la noche. De inmediato comenzaba la participación de artistas, oradores y/o músicos. Para la noche de Puro Borde! lo mas difícil fue pensar a quien seleccionar y a quien invitar.
It was important to show case muscicians that recognize themselves as Fronterizos. Artist that openly acknowledge the importance of a binational collaboration as a means of dialogue through different art media.
En el lado de Juárez nos pareció que la mejor representación la harían dos compas con los cuales hemos colaborado ya por más de 10 años. Alejandro Valtierra, o mejor conocido como "Keru Motocaca" nombre que lo identifica con uno de sus proyectos musicales. También se nos hacía importante tener un músico que tiene una visión desde la calle, esto con Efraín "Tuga" Astorga Garay y su proyecto musical Border Chango.
Los músicos que participaron del lado de El Paso fueron Amalia Mondragon con un set acústico que sirvió como base para una colaboración con los músicos de Juárez, haciendo una mezcla improvisada que era acompañada de las pulsaciones de las enormes lámparas del Sintonizador Fronterizo.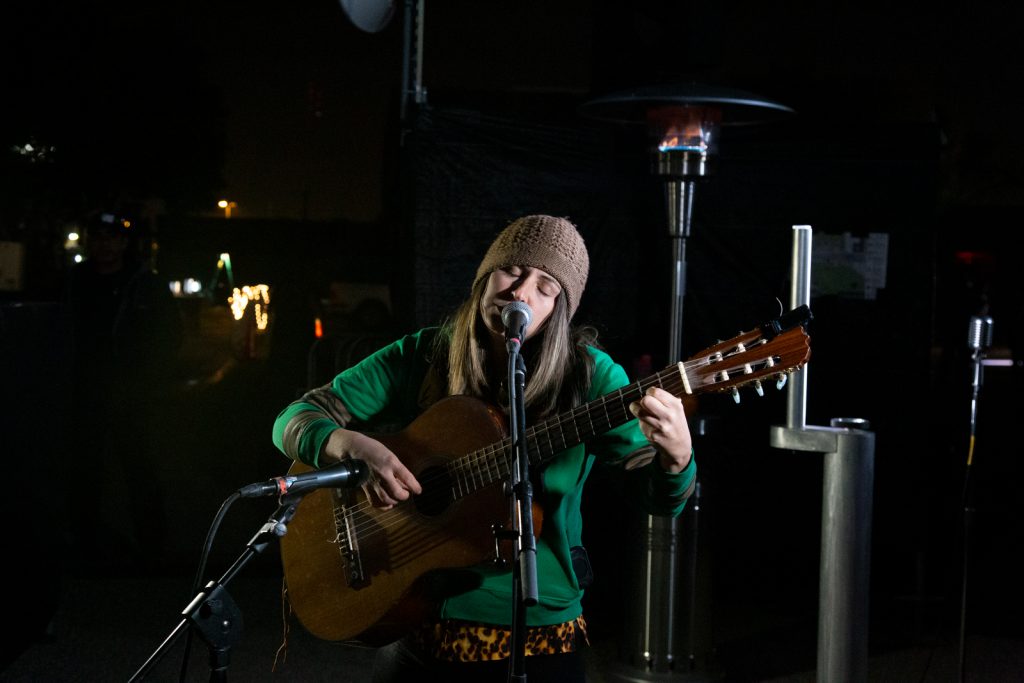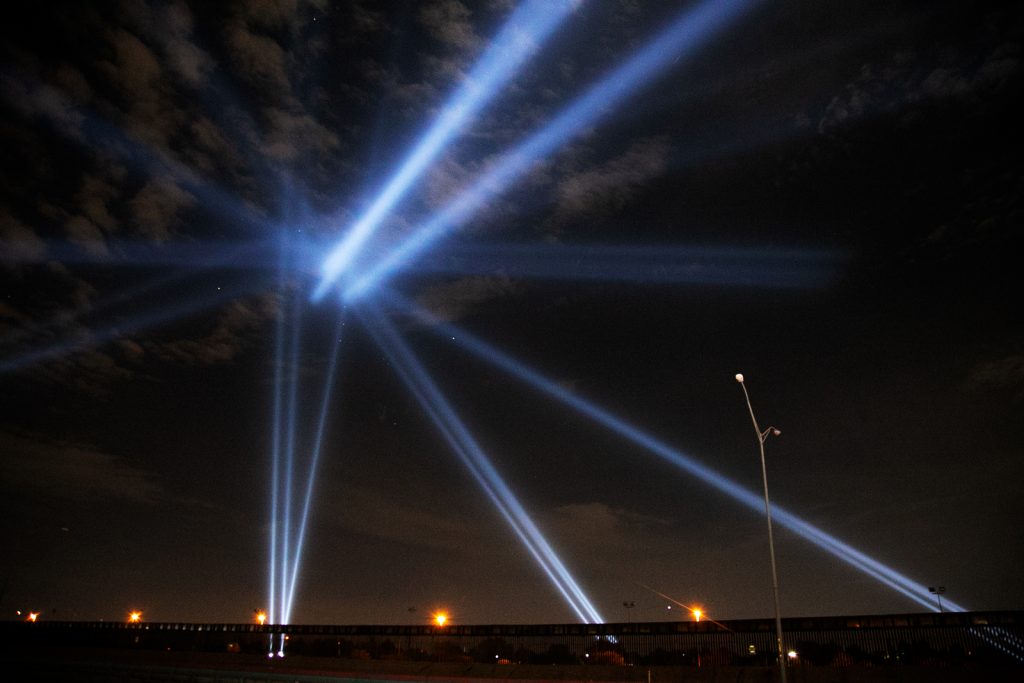 Sabor Gandaya puso el elemento del Hip Hop Fronterizo with his song 31 de Enero that talks about the reality of living on the border and the violence that targeted youth in a very well known case "The massacre in Villas de Salvarcar". It was crucial that this song was performed on the US due to the importance of the lyrics and as a representation of those violent years 2008-2016; when thousands of Juárez residents migrated to the other side – El Paso.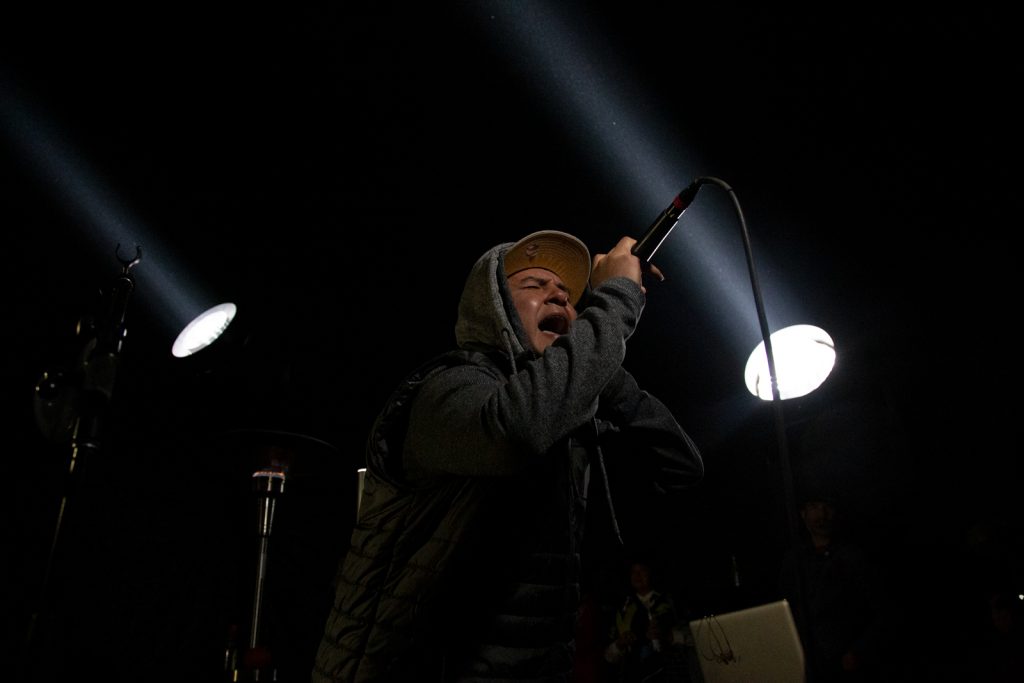 Julio César Mena arranged a musical piece that he titled Sounds of Border Tuner based on the dynamics that he experienced during previous days of the event. He is a local musician working out of his studio @ascensionept generating beats with pre-recorded samples. Continuing in the spirit of improvisation, an ephemeral song performance was done.
Amalia and Julio also improvised a song surpising everyone attending the event that night.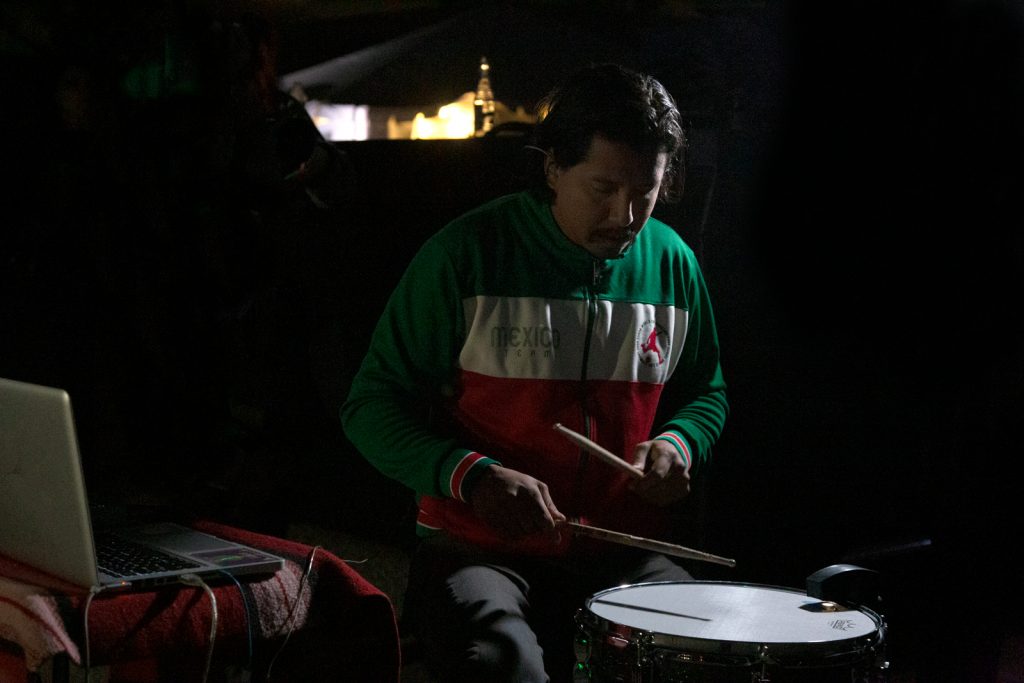 La música para nosotros es el elemento mas importante de nuestro colectivo Puro Borde!, como artistas de gráfica, étencil, muralistas, fotógrafos, grafiteros seguiremos diciendo lo mismo siempre.
¡ Sin música no pinto !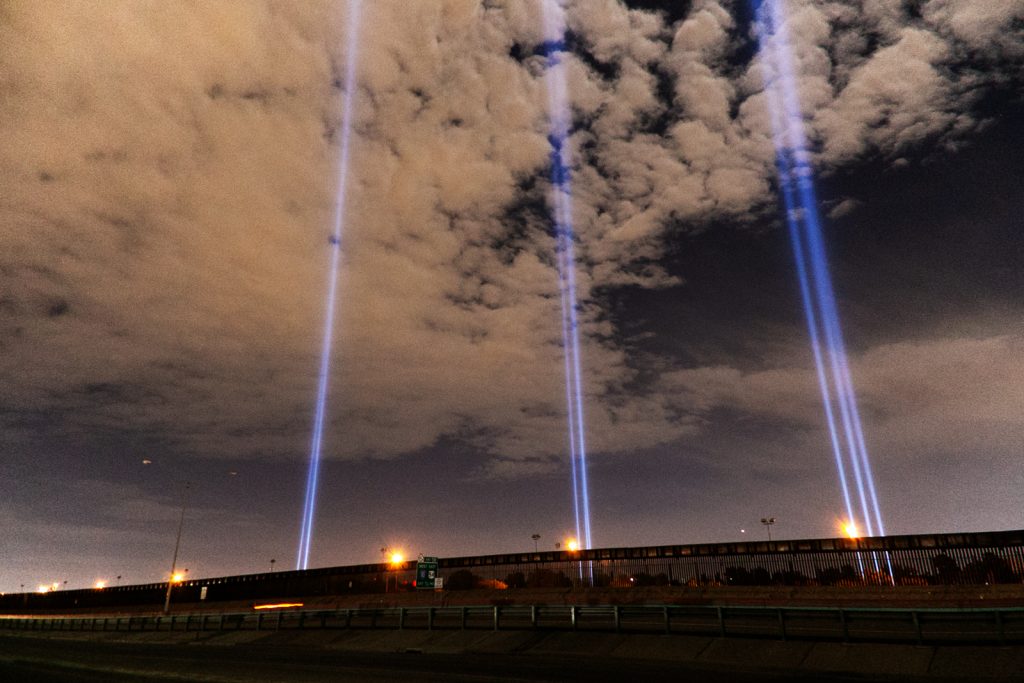 Puro Borde! collaborates with artists that promote different ways of communication between border cities, creating a dialogue amongst artists that want to share and exhibit their works on the other side.
During Border Tuner // Sintonizador Fronterizo there was also an important collaboration with Old Memories ' El Chuco TX ' Bomb Car Club and Galería 5 Puntos a gallery that promotes El Paso // Juárez artists.
Durante el evento hubo dos piezas que se trabajaron por distintos artistas, el encargado de coordinar fue un muralista de El Paso TX. Victor M. Casas. Se decidió por ilustrar a "El Pollero Cultural" como temática de las piezas un poco para describir nuestro papel dentro de la gestión y el acto de cruce de obra entre las dos ciudades.
El Pollero // El Coyote son iconos de nuestra cotidianidad e incluso dentro dentro de nuestras familias. También se utilizan como símbolos de la migración de nuestro territorio y que son animales que han sido afectados por la construcción del muro fronterizo.
Nov. 23 2019 Puro Borde! a Fronterizo Experience.
Por: Arón Venegas / texto y fotos